We've tested a lot of different steel compositions and sinking methods during the last 5 years, each one with its own upsides and downsides. This led us to develop a material we are finally 100% satisfied with.
We are happy to give the Handpan makers more choices and new timbres to explore.
Total shell diameter (including rim)
Our Shells compared to other sinking methods:
Better thickness distribution;
You don't spend time sourcing the material and forming the shell, your work is focussed on building;
The shell geometry and thickness is almost identical from one shell to the other, so there is less room for unwanted surprises;
No risk of big chemical variations if you source the material on your own. If we take AISI 430 for example, the possible chrome variation is 50%, this is a huge difference for Handpan Makers.
Our Shells compared to other Deep Drawn available on the market:
Shell curvature – The central area was specifically designed to be easy to work with. Making the area flat for the ding is an easy task on our Shells even for low dings and mutant dings;
Aesthetics – The scratches located near the rim are almost unnoticeable. It's possible to completely remove them with a soft polishing;

Protective film – Every shell comes with a protective film stuck to it. This provides more protection during shipping, avoiding possible scratches. Depending on your building style, you can make the dimples and shape with the film, so it saves time cleaning the shell before annealing;

Distribuition – The thickness distribution is more equal throughout the shell, the difference between the thicker and thinner part is smaller than 10%;
Composition – We work with a very specific and controlled chemical composition and in our opinion, it provides greater stability, tonal quality and oxidation resistance.  Besides, one batch doesn't change much from the other;
Stability – The overall thickness is greater than other Deep Drawn Shells we've tested, and it's around 100g heavier. In our opinion, this increases stability and gives a more ceramic timbre. However, it doesn't limit the scale options. It's still possible to make instruments with many notes as you can see on our videos;
Method – Our Deep Draw method is different from the slow hydraulic press usually used.
We provide top shells only that can also be used as bottom shells. We believe the shape and tune of the Gu hole is part of the maker's creation and uniqueness.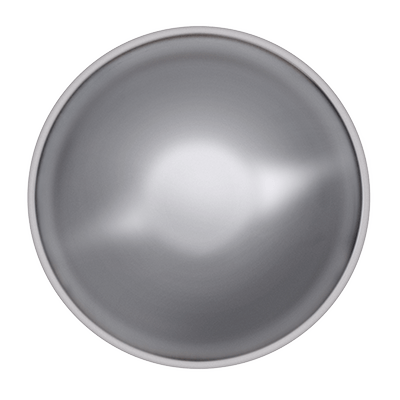 Stainless Steel AISI 430 1 mm: This is the most common Stainless Steel Grade. It has a very long sustain, bright and warm sound, pronounced attack and looks shinier than the others. Lamination lines are more visible on this material. It feels harder to work with compared to the other materials.
Stainless Steel AISI 439 1 mm: If you are looking for a sound in between Stainless Steel and Nitrided Steel, this is the best option for you. It has the ceramic and percussive quality of Nitrided Steel, combined with the long sustain of the Stainless Steel. The volume perception of this material is slightly lower than AISI 430. Its surface is rougher than AISI 430,  and there are no lamination lines. This material is softer to work with, so shaping and tuning need to be well done in order to have a good stability on this material.
Stainless Steel AISI 441 1 mm: Available Soon.
> PRICES:
AISI 430: 65 EUR each shell.
AISI 439: 70 EUR each shell.
> MINIMUM ORDER:
We ship boxes of 11 Shells. You can choose how many shells of each Steel composition you want.
By buying 9 boxes, you will benefit from a 5% discount.
> SHIPPING COST:
Please, contact us through the email mudrahandpan@gmail.com
Bonus ****Available in 2023****
We are compiling a series of videos, guiding you step by step on the building process, not just the way we do it, but showing many building styles, from cheap tools to expensive ones. If you buy 108 Shells or more, you'll receive this guide for free.
Special offer for a limited time!
For a limited time, we're offering a special discount for you, 25% off on your first purchase.
Valid until the end of June, 2023.